HotelTime Solutions joins Total Processing
---
HotelTime Solutions has joined Manchester and Dubai-based fintech - Total Processing, to automate its payment system and streamline its services. The UK-based leading provider of property management system simplifies its client's booking systems for hotel services all over the world. HotelTime Solutions has been providing services in the UAE since 2020 with an office in Dubai. With automated payments integrated into its system, it can offer a more efficient and secure payment process. Since its implementation, HotelTime Solutions has created a more efficient and secure operation, reducing staff errors, chargebacks and cost, boosting revenue and customer satisfaction. 
---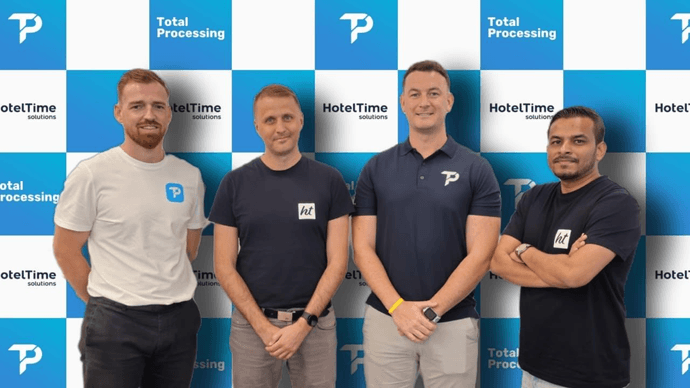 Through its partnership with Total Processing, HotelTime Solutions is successfully tokenizing over 50,000 cards per month, processing over EUR 4 million by undertaking 16,800 transactions and saving approximately 84,000 minutes on manual reconciliations.
Founded in 2015, Total Processing is one of the UK's fastest-growing fintech companies disrupting the payments sector through the delivery of custom payment solutions across online and in-store channels worldwide.

"With Total Processing, we have been able to automate our payments and reconciliation processes, which has saved us countless man-hours and eliminated the risk of data leakage. The partnership has helped us grow our business by streamlining our client's operations and boosting their revenue stream," says Jan Hejny, CEO of HotelTime Solutions.
Total Processing's intelligent payment platform offers a seamless and secure payment experience for merchants of all sizes, enabling them to process transactions quickly, efficiently, and securely. 

"We are committed to helping our merchants succeed by providing them with innovative and intelligent payment solutions. Our partnership with HotelTime Solutions is a testament to our dedication to empowering businesses with the tools they need to optimize their operations, reduce costs, and increase revenue," adds Total Processing's spokesperson. 
 
About Total Processing: 
Total Processing is a leading provider of intelligent payment solutions that enable businesses to streamline their payment workflows, reduce costs, and boost revenue. The company offers a range of payment processing services, including online, point of sale, and mobile payments, as well as a range of fraud detection and prevention tools. 
 
About HotelTime Solutions: 
HotelTime Solutions is a leading provider of hotel management software that enables hotels to streamline their operations, reduce costs, and improve guest experiences. The company's cloud-based platform offers a range of features, including reservations, housekeeping, accounting, and more.