News
——

2.11.2022
—— 10 reading minutes
Dehumanizing Hospitality: The Automation Paradox in Our Industry
---
A recent American Hotel & Lodging Association Foundation survey found that 97% of hotels are experiencing staffing shortages. It is not breaking news, and, by now, I assume we're all familiar with the mainstream narrative:
It's because of COVID.
It's because of Brexit.
It's because of basic income.
It's because of [add a random word here. Just remember to make it sound intelligent and coherent with your statement. It's even better if you add a few made-up stats (no one will fact-check anyway)].
---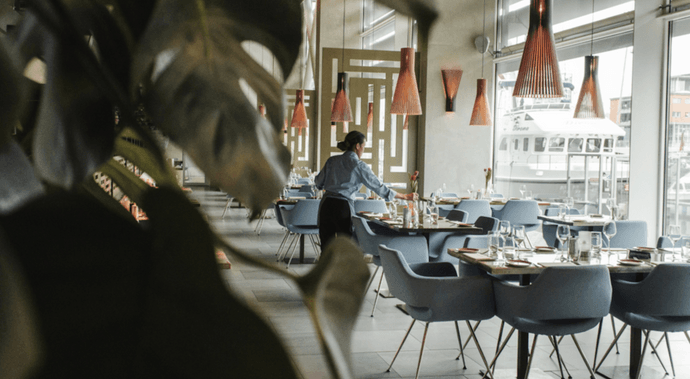 But is it?
I don't want to be controversial on purpose, but some studies suggest that hospitality has been understaffed (at least) since the mid-2000s, so what we're experiencing right now may be just the tip of the iceberg. But, hey! Here's the plot twist. What if there is NO iceberg? What if we got it all wrong? What if the industry was never understaffed but rather undermanaged?
I went to the woods because…
Let's start with the harsh truths: hospitality is infamous for having, on average, lower profit margins than other industries, ranging between 1% and 15%. Hilton's operating profit margin? 13%. Marriott? 9.7%. Hyatt? Less than 5%. Just to put things into perspective: the maids, nannies, and gardeners industry has an average profit margin of over 50%. At least on paper, therefore, you'd be safer pursuing a career in growing potatoes than running a hotel. To make things more complicated, most studies agree that almost half of the total operating expenses in the hospitality sector go to salaries, wages, service charges, contract labor, bonuses, and payroll-related costs. A 150 key-property will take somewhere around 25 and 40 employees to run. Again, let's do the math here: when Meta (former Facebook) acquired Instagram (for $1 billion), the photo/video-sharing social network had just 13 employees, and that's including its former CEO, Kevin Systrom. My point? We're a people industry. People ARE the industry. The Latin term "Hospitalitem" literally means "friendliness to guests." Now, Instagram is a lot of things, but "friendly" is not one of them, at least not in my book. Nonetheless, our managers have been taught to control costs over people, and, in an industry like ours, that's a recipe for disaster.
24/7/365
If you can't increase your revenue, then cut your costs. That's what we teach at hospitality school. It's all about profit. So, if people account for almost half of your company expenses, firing a bunch of them will do the trick. At least for a little while. According to the World Travel & Tourism Council, the pandemic could have been responsible for the loss of 50 million jobs worldwide in the travel and tourism industry. That's around 1/4 of the whole sector. But, surprise! Travel is back. And with a vengeance. According to several studies, 2022 RevPAR for accommodation providers worldwide has already surpassed 2019 levels. However, we haven't replaced all of these 50 million vacant positions, have we? Yet, we're still operating. Sure, a few double shifts here and there, but we're still open for business. 24/7/365.
It's not phygital. It's just common sense
So, what did change in 2022? "We are in the business of people serving people," Hilton's CEO, Chris Nassetta, stated last June during the NYU Hospitality Investment Conference. "Technology will enable better service," enabling workers to spend less time with their "heads down" and more with their "heads up." Nassetta used the term "phygital" to describe post-COVID hospitality, but we can use a different, more prosaic expression: common sense. We tend to confuse the terms "hospitality" and "logistics" and use them as synonyms, but make no mistake here:
Passport scanning is not hospitality. It's logistics.
Manually charging credit cards into a point-of-sale is not hospitality. It's logistics.
Communication is hospitality.
Attention to detail is hospitality
Trying to solve a tech problem with more people is a paradox. You cannot scale empathy. But you can implement a payment gateway and save hundreds (if not thousands) of hours in man hours. But here's where the vicious circle kicks in: profit margins go down, and, as the quarterly earnings report date approaches, managers start to get nervous and implement fear-based band-aid strategies–fire somebody. Stakeholders are happy, managers still get their fat bonuses, and the real problem, well… Let's address it in three months. Automation does not make your hotel "innovative," "visionary," or "cool." It just makes your guests happier, your staff less stressed out, and your margin profits go up without downstaffing every three months
Automate or stagnate
During the above mentioned conference, Hilton's CFO, Kevin Jacobs, addressed what I like to call "hospitality losers' excuse:" the infrastructure problem created by built-in-the-'80s-legacy-systems many properties still have. Jacobs refers to it as our "tech debt," but that doesn't change the substance: automation is a business necessity, not something worth bragging about. Sure, changing your infrastructure may be a painful process, but the alternative is not to be able to scale your business. A US Job Market Report revealed that 25% of hospitality workers who quit the industry due to the pandemic "are not willing to work in it again." I don't blame them. And it's not because of the long hours, low pay, or lack of benefits/career opportunities. It's because of poor management. Hospitality is still (and always will be) a fantastic industry to work in. It gets a bad rap, but c'mon: would you prefer your kids to work 40 hours a week in an Amazon warehouse or 80 at the Ritz? And, oh, the irony! While service is criminally undervalued in hospitality, the UK Institute of Customer Service has named Amazon the company with the best customer service score for the past ten years in a row… Their secret Szechuan sauce? Automate what can be automated and allocate people where they can give their best.
Dodo, Boulot, Metro
The bottom line is that if we don't change the conditions of our people, in a few years, we'll have none of them left. That's the real dystopia, not the tech-centric industry some industry luddists fear so much. Of course, we all know the mantra: "people will never forget how you made them feel." Well, guess what? It's tough making your guest "feel good" when all your staff is forced to do is type on their keyboards, isn't it? If we keep managing our human staff like tech and our tech like humans, they will keep leaving the industry for better career opportunities. Let it sink for a minute and be honest with yourself. Wouldn't you?